Hurricane Ian made landfall in Florida on Wednesday as a powerful Category 4 storm. Residents across the state were hunkered down, with widespread power outages, damage and at least two fatalities likely linked to the storm.
As of 5 a.m. Thursday, Ian has been downgraded to a tropical storm, according to the National Hurricane Center. It was forecast to move over the Atlantic Ocean near Cape Canaveral, then move up toward South Carolina. It possibly could re-strengthen to a hurricane over the water and approach the South Carolina coast on Friday.
Despite the downgrade, the storm surge continues to be life-threatening across the coasts of northeast Florida, Georgia and South Carolina, with record river flooding expected through the end of the week.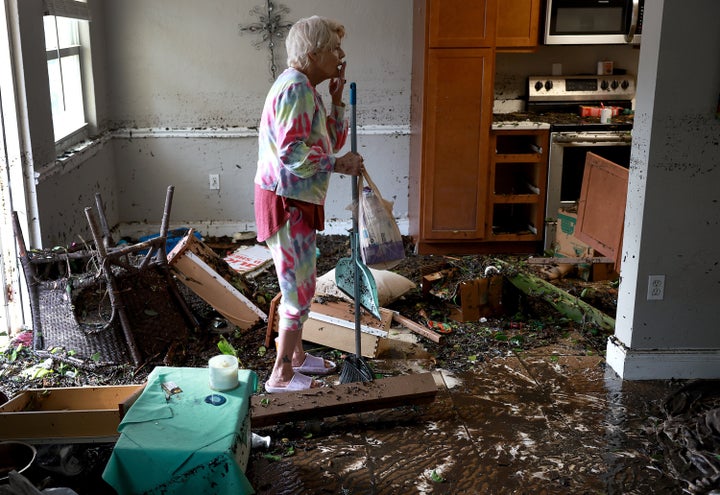 A 72-year-old man was found dead around 1 a.m. Thursday in Deltona after going outside during the storm to drain his swimming pool. The man's wife called for help after he didn't return. Deputies later found him lying unresponsive in a nearby canal that he had been draining the water into, the Volusia County Sheriff's office said.
Earlier Wednesday, officials in Palm Beach County said the body of a 34-year-old man had been found in floodwaters in Martin County. The cause of death was still under investigation, although rescue workers said it was likely linked to the hurricane.
A boat carrying people migrating from Cuba sank in rough waters off Stock Island on Wednesday, according to U.S. Border Patrol. Four people swam to shore, three were rescued and air crews were still searching for 20 people as of Wednesday, CBS News reported.
Lee County Sheriff Carmine Marceno told "Good Morning America" Thursday that fatalities from the storm are "in the hundreds," though he later said he couldn't confirm the numbers. His office declined to comment on the number of fatalities, telling HuffPost that the focus is on search and rescue at this time.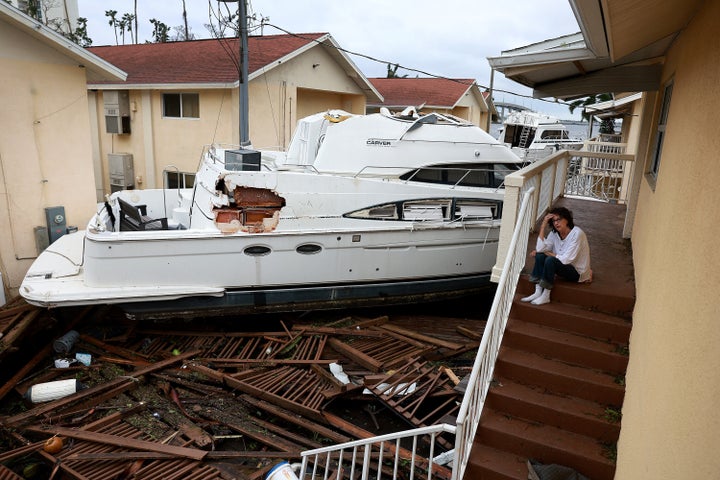 Florida emergency rescue officials warned residents to stay indoors until the storm passed and to never walk or drive through floodwaters. Should water come into homes, they said, residents should seek the highest indoor level.
President Joe Biden on Thursday approved a major disaster declaration for Florida, making federal funding available for residents in Charlotte, Collier, DeSoto, Hardee, Hillsborough, Lee, Manatee, Pinellas and Sarasota counties. This funding can include grants for temporary housing and home repairs, as well as low-cost loans to cover uninsured property losses.
Gov. Ron DeSantis (R) said he spoke with Biden and that the disaster declaration will likely be expanded to other areas as the storm continues to leave the state.
"The amount of water that's been rising, and will likely continue to rise today even as the storm is passing, is basically a 500-year flood event," he said of the severity. "People should understand, this storm is having broad impacts across the state and some of the flooding you're going to see, in areas that are hundreds of miles from where this made landfall, are going to set records."
DeSantis said many bridges remain closed and impassable in the Fort Myers area until they can be examined for safety issues. Some areas may be without power until local infrastructure can be rebuilt.
"Lee and Charlotte are basically off the grid at this point," he said of two counties where the power connections will have to be entirely rebuilt.
The National Oceanic and Atmospheric Administration's Ocean Service reported water levels surged more than 6 feet above normal high tide levels in Naples, Florida, just before Ian made landfall. That figure was far higher than the record of 4.25 feet set during 2017's Hurricane Irma.
Storm surge records were also set in Key West and Fort Myers. Videos from those areas show water flowing through streets.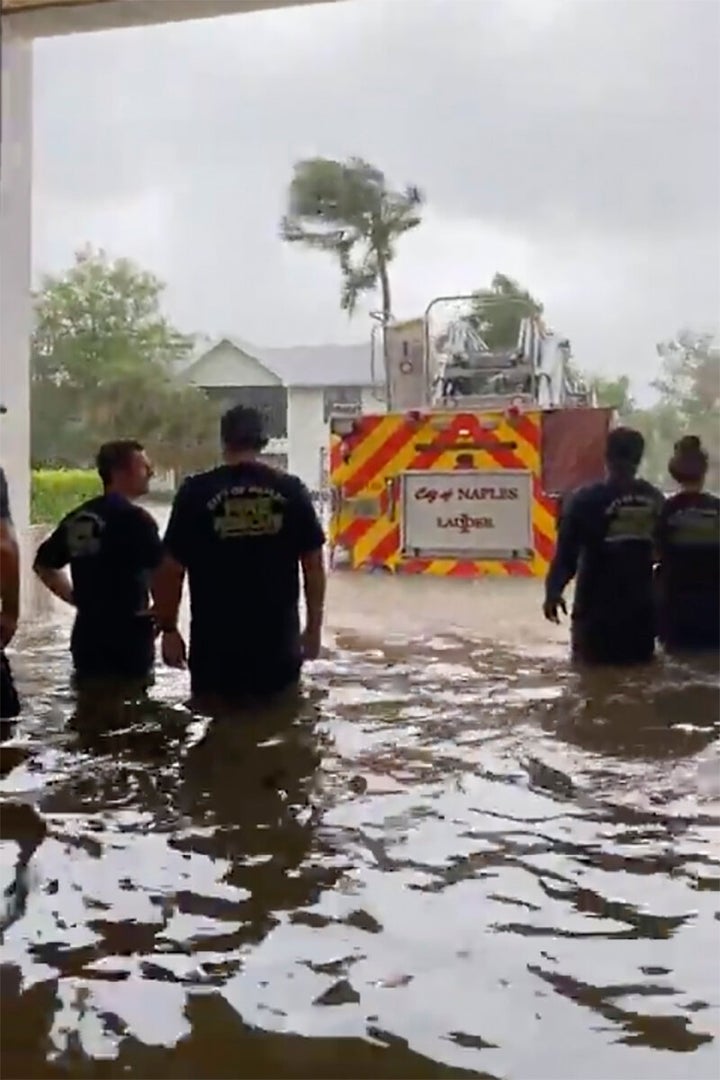 Earlier Wednesday, DeSantis warned those further inland to prepare for "major, major flooding events," urging Floridians to heed mandatory evacuation orders. He said the storm surge was as high as 12 feet in some areas, describing the storm as "battering" the southwest part of the state.
"This is a big one, and I think we all know there's going to be major, major impacts," he said at a news briefing. "At a minimum, it's going to be a very strong Category 4 that's going to rank as one of the top five hurricanes to ever hit the Florida peninsula."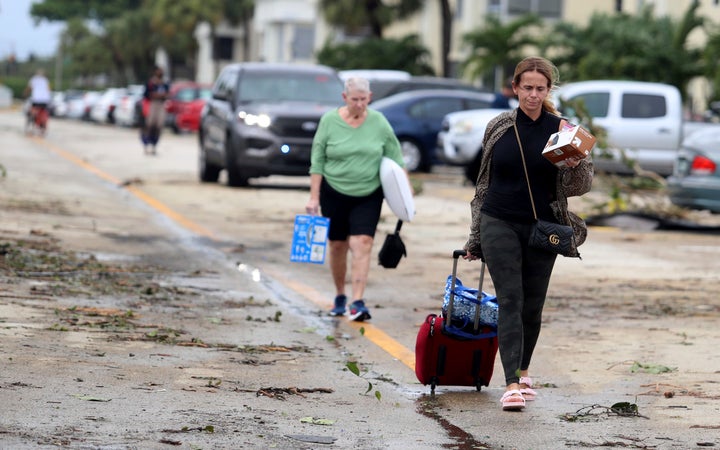 Rescue workers were sifting through hundreds of rescue calls, The Miami Herald reported, although 911 centers were down in some counties heavily affected by the storm.
"We are getting a significant number of calls of people trapped by water in their homes," the Collier County Sheriff's Office, which encompasses Naples, said in a statement obtained by the South Florida Sun Sentinel. "Some are reporting life threatening medical emergencies in deep water. We will get to them first. Some are reporting water coming into their house but not life threatening."
"They will have to wait," the office added. "Possibly until the water recedes."
The National Hurricane Center said Ian's effects would likely be felt for days. The storm is expected to move up the coast, bringing a "life-threatening storm surge" on Thursday and Friday to northeast Florida and into Georgia and South Carolina.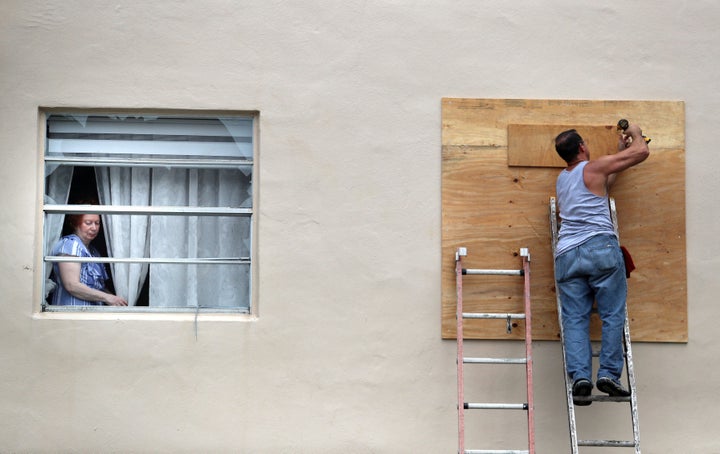 By Wednesday afternoon, Ian was barreling toward Florida with maximum sustained winds of 155 mph, just shy of becoming a Category 5 monster. Just hours later the National Hurricane Center said Ian had made landfall as an "extremely dangerous" Category 4 hurricane.
It's the strongest storm to hit the state since the devastating Hurricane Michael hit Florida in 2018.
Ian's power had sucked seawater from Tampa Bay in what's known as a negative storm surge. Officials said the phenomenon could prove dangerous when the water returns, propelled by fierce winds. Residents were warned to stay away from shorelines with receding tides, saying the whiplash could be life-threatening.