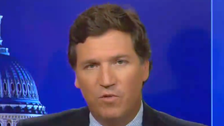 Tucker Carlson shared his skepticism about hurricanes on Tuesday as Hurricane Ian is expected to make its way toward Florida this week.
Carlson claimed people are "kind of onto the scam" of hurricanes prior to the segment on Ian.
"So, you hate to hype hurricanes, because it's just a staple of TV and everyone's kind of onto the scam," Carlson said.
"But there's a legitimately large hurricane barreling toward the Gulf Coast of Florida tonight."
You can watch a clip of his remarks below.
Carlson isn't the first conservative host to question hurricanes.
Late radio host Rush Limbaugh claimed in 2016 that hurricanes were "in the interest of the left" to call for action on climate change but, like Carlson, admitted at the time that there was a serious storm on the way to Florida: Hurricane Matthew.