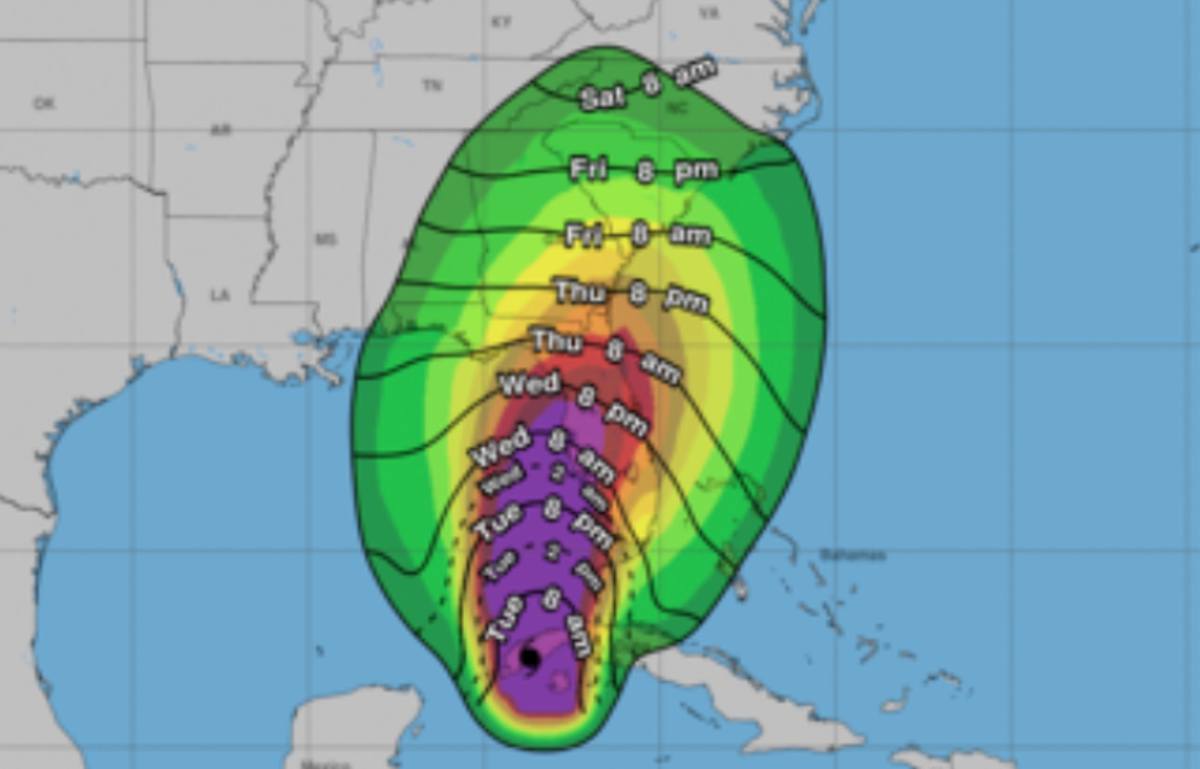 Hurricane Ian, previously a Category 4 storm that has since downgraded to a Category 1 storm, is continuing its path of destruction. Having barreled through Florida after making landfall near Fort Myers on Wednesday, the storm is now headed for South Carolina.
AccuWeather reports warn of "flooding rainfall, dangerous storm surge, damaging winds, and severe weather" across the southeast and compared Ian to "a powerful nor'easter with most of the storm's rain and wind focused to the north and west of the cente."
Rain from Ian had already hit Charlotte and Greensboro, North Carolina, and Virginia Beach, Virginia as of Friday morning. States of emergency have been declared across Georgia, South Carolina, North Carolina, and Virginia while tropical storm warnings were issued for coastal areas in Georgia and North Carolina.
"Ian will turn back to the northwest after moving northward for a time while over the Atlantic Ocean on Friday," AccuWeather Chief On-Air Meteorologist Bernie Rayno said.
The storm is on track to head into central north Carolina, southwestern Virginia and maybe West Virginia this weekend.
Charleston, South Carolina and Wilmington, North Carolina, "will be at risk for a water level rise of 3-6 feet with locally higher levels from Friday to Friday night," AccuWeather says. They've noted that the worst conditions will likely be Georgetown or Myrtle Beach areas of South Carolina.
The National Hurricane Center's update on Friday morning (8am, EST) noted that when Ian hits South Carolina, its "maximum sustained winds remain near 85 mph (140 km/h) with higher gusts" and "little change in strength is expected before Ian reaches the coast later today."
They also warn that flooding will "occur along the immediate coast near and to the right of the center, where the surge will be accompanied by large waves."
Thought to be one of the strongest ever recorded in the United States, Ian has already left several people dead and huge swathes of Sunshine State cities underwater, with locals bracing for further strong winds, flash flooding and even isolated tornadoes.
Five deaths have been confirmed in Fort Myers, a city that had not previously faced a direct hit from a major hurricane since 1921, with Lee County sheriff Carmine Marceno predicting their could be "hundreds" more fatalities waiting to be uncovered.
More than 2.5 million Floridians have also been left without power, several hundred thousand have taken part in mass evacuations but others have taken to social media to plead for rescue after becoming trapped in their homes by the conditions.
Before it crossed the Gulf of Mexico, Ian had already battered western Cuba, with authorities in the Pinar del Rio province evacuating 50,000 people from the area and setting up at least 55 shelters.
US president Joe Biden declared a major disaster in Florida on Thursday morning in response to the catastrophe, while governor Ron DeSantis told locals that Ian is "knocking on the door of a Category 5" and described it as the "real deal" before urging residents to "hunker down".
Many of the state's famous tourist attractions, including Disney World Resorts and Universal Orlando, are closed to visitors on Thursday and Friday as the storm moves through central and eastern Florida, where it is expected to drop 12-18 inches of rain with sustained winds of more than 75mph.
Source link