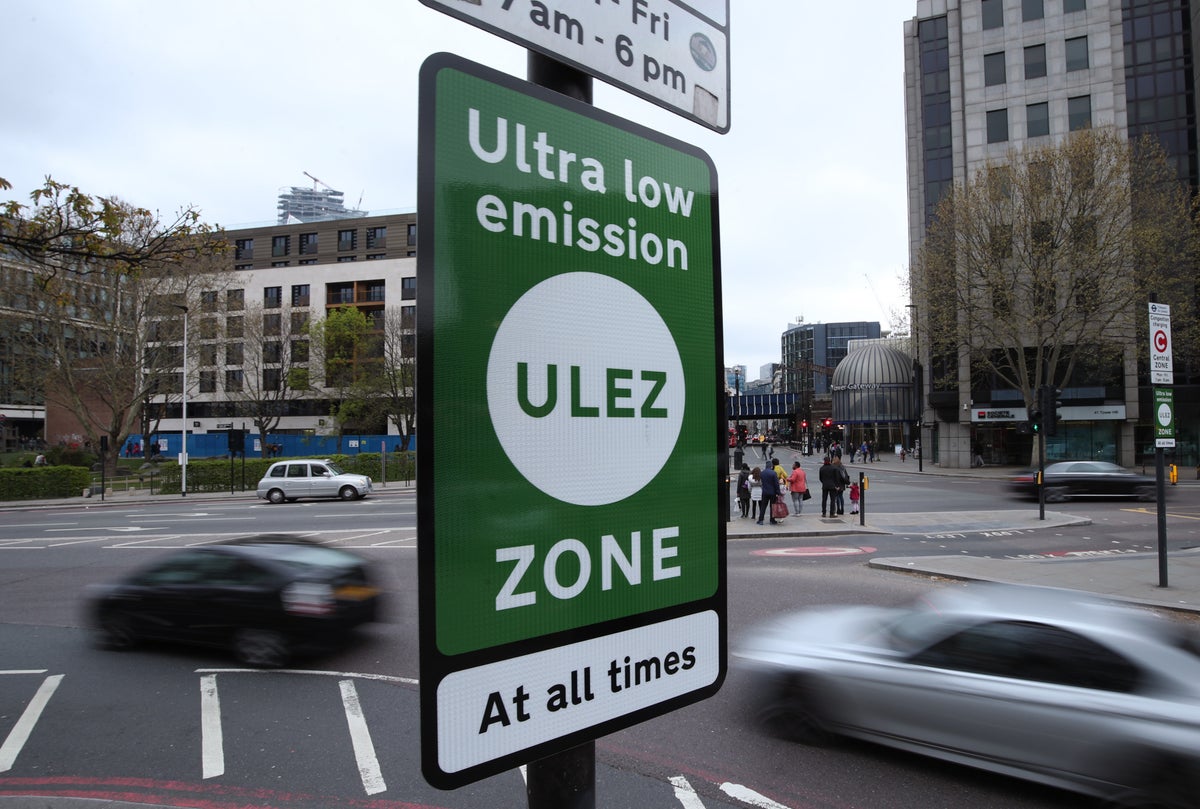 Sadiq Khan is to push ahead with expanding London's Ultra Low Emission Zone (ULEZ) clean air driving charge to the whole of Greater London next year, he has announced.
The Mayor of London said the expansion of the scheme is needed to tackle air pollution, address the climate emergency, and bring down congestion on roads.
Speaking to reporters ahead of the announcement Mr Khan said people in capital were "breathing in poison" and noted that the 10 boroughs with the most premature deaths from air pollution were all in outer London where the scheme will expand to.
The ULEZ is a £12.50 charge for vehicles that do no meet up-to-date emissions standards, which currently covers inner London, with the north and south circular roads as its boundary. It sits on top of the £15 daily congestion charge for all vehicles in the very centre of London.
Under Mr Khan's plan the scheme will expand to the boundary of Greater London from August 2023, going as far as Chessington in the south and stretching up to the M25 in parts of north London. It will be enforced by numberplate recognition cameras, some of which are already in place.
The expansion of the ULEZ has clear support across the capital, with a YouGov poll of 1,245 adults commissioned by the mayor showing 51 per cent in support verses 27 per cent who oppose the expansion.
But an open consultation for the scheme attracted mostly opposing voices and some London boroughs like Tory-controlled Croydon have said they will not support it.
Critics say it was unfair to expand such a charge during a cost-of-living crisis. Other cities like Greater Manchester have backed down on introducing similar clean air zones after a backlash.
But citing the "misery" of 4,000 early deaths in London from air pollution a year and billions in costs to the NHS and businesses, Mr Khan said: "Doing nothing is not an option for me."
The Mayor told reporters he has taken on board concerns raised during the consultation and that changes had been made like expanding a grace period for blue badge holding disabled people to update their vehicles. Community transport and charities will also be covered by the grace period.
The mayor also announced that the Greater London Authority would be setting up a £110 million scrappage scheme to help people replace their polluting cars.
Anyone using the scheme will be be given a credit towards buying a less polluting vehicle, but will also be given the option of a free travel card to encourage them to switch to more sustainable transport.
TfL's stretched finances and the cost of the scrapple programme would mean "difficult decisions" in next year's budget he said.

UK news in pictures
Show all 50
But Mr Khan said TfL would also be able to enact a significant expansion of bus routes in outer London to allow people to switch to public transport.
The Mayor of London said the decision of whether to extend the ULEZ was "one of the toughest decisions that I've taken since I've been a politician".
But he added: "I'm quite clear the costs of action are far outweighed by the costs of inaction, and I'm not willing to allow political expediency to trump public health."
Mr Khan ultimately wants London's different road charges to be rolled into a smart road user charging scheme that would take into account distance driven, congestion, type of vehicle, and other factors like accessibility to public transport.
Such a scheme is likely still years away, but the mayor told The Independent: "The ultimate destination is a smart road user charging scheme in London. We've been looking around the world about what sort of schemes they have. The best one is Singapore but it's not quite what we're after."
The mayor added that ULEZ and the congestion charge could eventually be rolled into such a system "when TfL is ready with a scheme" but currently "there isn't one you can buy off the shelf". Mr Khan recently amended his transport strategy to make such a scheme a long-term goal for the capital's streets.
Source link