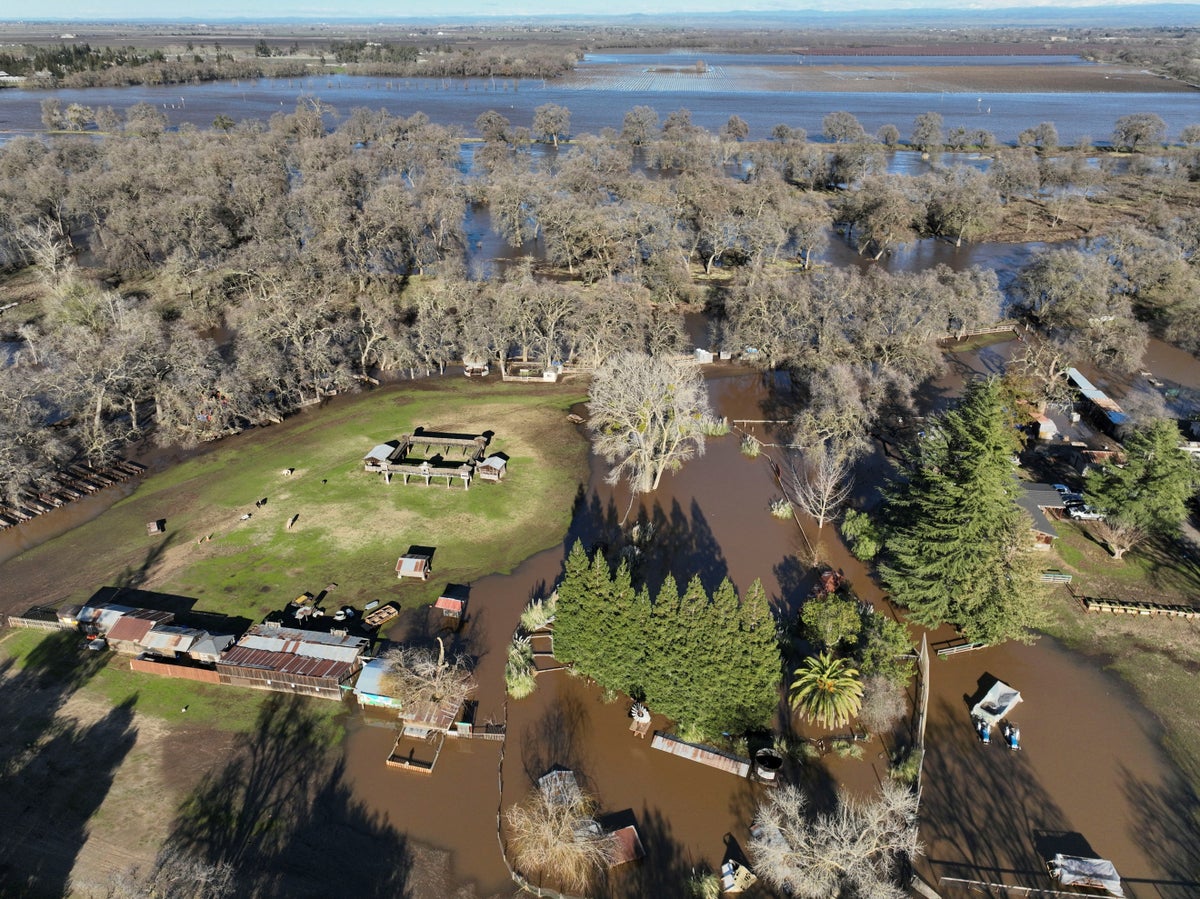 Warnings of excessive rainfall and flash flooding have been issued for millions of people in California again this week after a powerful storm over New Year's Eve left one person dead and thousands evacuated.
Heavy rain and high-elevation snow is likely to impact the West Coast, particularly central and northern California, from Wednesday when the next surge of precipitation will move onshore.
The latest forecast states that two to four inches of rain is expected across much of northern and central California. More than 10 inches is forecast in localized areas along a 150-mile stretch from Redwood Coast south to Monterey Bay, according to the National Weather Service (NWS), with the heaviest amounts unfolding later on Wednesday and overnight into Thursday.
Given the water-logged soil from recent heavy rains, numerous flash floods and runoffs are likely across the area.
On Tuesday, there is also a moderate risk of excessive rainfall for portions of southern Alabama and southwest Georgia. Storms are expected to march through the Tennessee Valley into the southern Appalachians during the day, with localized heavy rain expected.
At the turn of the year, a weather phenomenon called an "atmospheric river", also known as "rivers in the sky", dumped up to five inches of rain around Sacramento, California. Mountain roads weaving through the Sierra Nevada range were blocked by heavy snowfall and driving was treacherous due to showers and thunderstorms.
Dozens of people had to be rescued after floodwaters trapped them in vehicles, and the powerful weather system washed away a 200-foot section of levee system protecting vineyards and cattle ranches. Crews have rushed to repair the structure before the next rains come.
The heavy downpours this past weekend also led to the evacuation of the Point Pleasant Community near the Cosumnes River in south Sacramento county, including 1,075 inmates and staff at the county jail.
Mudslides tore across highways and 60mph brought down trees into powerlines, leaving tens of thousands of residents in blackouts. At San Francisco's Fisherman's Wharf, the wettest day in 30 years was logged, Meanwhile, a sinkhole opened up at the Oakland Zoo, closing the attracion for at least two weeks.
Northern California was also struck by a magnitude-5.4 earthquake on New Year's Day which led to further power outages and widespread damage. The quake took place on Sunday with the epicenter around nine miles southeast of Rio Dell, Humboldt County, the US Geological Survey reported.
The festive season has brought wild and extreme weather to nearly every corner of the United States. Winter Storm Elliott, described by forecasters as "one of the greatest extents of winter weather warnings and advisories ever", left at least 72 people dead across the US and Canada. Nearly half of those deaths occurred in the city of Buffalo, New York and surrounding Erie County.
Tens of thousands of flights were cancelled, and countless vehicles were stranded in thick snow and whiteout conditions over the busy holiday period. As many as 1.8 million buildings lost power as the deadly "bomb cyclone" barrelled across the country.
Studies suggest that abnormally strong cold spells may become more likely, Climate Nexus reported. Rapid warming in the Arctic (along with accompanying losses of sea ice and spring snow cover) due to climate change appear to be playing a role in disrupting the polar vortex high up in the atmosphere, creating more opportunities for cold air to dive south.
Source link